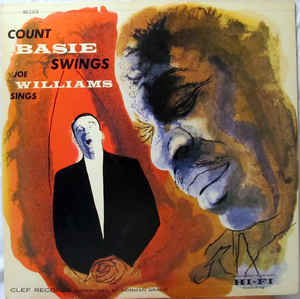 AUTORE
Count Basie

TITOLO DEL DISCO
«Count Basie Swings & Joe Williams Sings» / «Chairman Of The Board»
ETICHETTA
Fresh Sound / Essential Jazz Classics

---
Ricompaiono due album di etichette granziane (Clef e Verve), arricchiti molto generosamente da vari bonus. Altrettanto generosamente (quattro stelle da DownBeat) erano stati stimati all'uscita. Viene però il sospetto che l'«implacabile macchina da swing», ossia la band cui Basie aveva da qualche tempo dato vita, stesse beneficiando di quote di consensi un pochino gonfiate. Comunque sui giudizi dei due album giocano a favore rispettivamente la presenza di tre eccezionali cavalli di battaglia (Every Day I Have The Blues, Alright Ok You Win e In The Evening, che il timbro baritonale del generoso Williams, cantante formatosi manifestamente con l'umore del blues, avrebbe poi intonato per anni in ogni parte del mondo) e la compattezza, l'energia e l'esprit de corps, connaturali alla band, con cui vengono affrontati anche gli arrangiamenti di Bregman, non sempre brillantissimi.
Schiozzi
DISTRIBUTORE
FORMAZIONE
Formaz. complessiva: Reunald Jones, Wendell Culley, Thad Jones, Joe Newman, John Anderson, Snooky Young (tr.), Bill Hughes, Henry Coker, Benny Powell, Al Grey (trne), Marshall Royal, Bill Graham, Frank Wess, Frank Foster, Billy Mitchell, Charlie Fowlkes (ance, fl.), Count Basie (p.), Freddie Green (chit.), Eddie Jones (cb.), Sonny Payne (batt.), Joe Williams (voc.), Frank Foster, Ernie Wilkins, Buddy Bregman (arr.).
DATA REGISTRAZIONE
New York, 17-5-55; Chicago, 23-1-56; Los Angeles, aprile-maggio 1956; Chicago, New York, Los Angeles 1958.