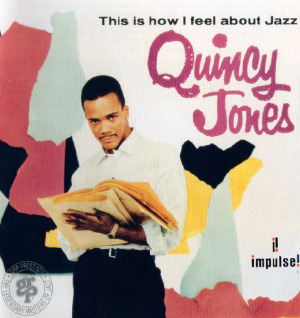 AUTORE
Quincy Jones
TITOLO DEL DISCO
«This Is How I Feel About Jazz»
ETICHETTA
Poll Winners

---
Il cd abbina due album originali: quello pubblicato con lo stesso titolo dalla Abc nel 1956 e «The Great Wide World» edito dalla Mercury nel '59. Nel primo, esordio discografico di Jones come leader di una big band, figurano Walkin', Stockholm Sweetnin', Sermonette e Boo's Blues, annoverabili tra le sue cose più riuscite sia sotto il profilo orchestrale sia per il rilevante apporto solistico di Woods, Farmer, Thompson e Mingus (nell'ultimo titolo). Il secondo appare meno omogeneo stilisticamente per l'inserimento di arrangiatori (Ernie Wilkins, Bill Potts, Ralph Burns) diversi dal leader. Ciononostante Ghana, Caravan, Air Mail Special, Chant Of The Weed costituiscono perle davvero preziose. C'è infine una seconda versione di Air Mail Special registrata dal vivo a Zurigo nel 1961.
Lombardi
DISTRIBUTORE
FORMAZIONE
Art Farmer, Joe Wilder, Lee Morgan, Ernie Royal (tr.), Jimmy Cleveland, Urbie Green, Billy Byers (trne), Phil Woods, Budd Johnson, Lucky Thompson, Herbie Man, Jerome Richardson, Sahib Shihab (ance, fl.), Hank Jones, Billy Taylor (p.), Paul Chambers, Charles Mingus (cb.), Charlie Persip, Don
Lamond (batt.), Quincy Jones (dir., arr.).

DATA REGISTRAZIONE