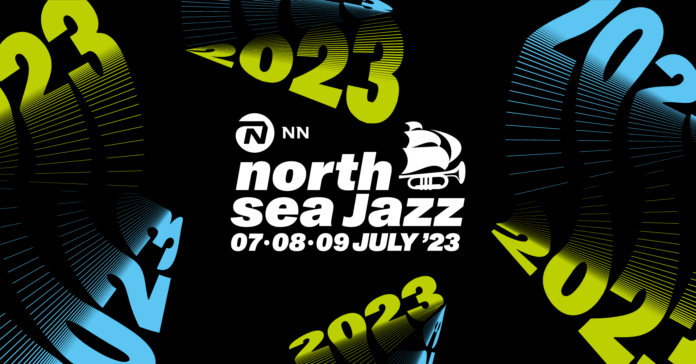 Con oltre 90.000 presenze ogni anno, il North Sea Jazz Festival si è costruito una reputazione incomparabile fin dal suo anno inaugurale nel 1976, ospitando nel corso degli anni una serie di icone musicali, da Miles Davis e Count Basie a Amy Winehouse e Adele. Quest'estate il festival prevede più di mille musicisti, distribuiti su 150 spettacoli e quindici palchi diversi.
https://www.northseajazz.com/en/tickets/
La line-up è corposa, ricca di nomi prestigiosi e si distribuisce nel weekend dal 7 al 9 luglio.
Venerdì 7 luglio: Alabaster DePlume; Andrew Cyrille Quartet; Ben l'Oncle Soul; Bia Ferreira; Bill Frisell FOUR ft. Greg Tardy, Gerald Clayton, and Jonathan Blake; Buddy Guy – Dammn Right Farewell; Camilla George; Cha Wa; Chatlein i su Zumbi; Crescent Super Band; Danielle Ponder; Dave Holland New Quartet featuring Kris Davis, Jaleel Shaw and Nasheet Waits; The Diaspora Suite ft. Metropole Orkest, Arooj Aftab, Corinne Bailey Rae, Laura Mvula, Typhoon a.o.; Duckwrth; Fergus McCreadie Trio; Fred Hersch & Esperanza Spalding; The Hi-Stakes; Ir Sais; Jasper Blom Quartet with Pablo Held; Jazz at Lincoln Center Orchestra with Wynton Marsalis; Kenny Barron Quartet; Kingdom Sound; Linda May Han Oh; Marco Mezquida Trio; Maria Schneider & Oslo Jazz Ensemble presents 'Data Lords'; Mavis Staples; Mette Rasmussen Trio North; Minyeshu; Mo, Dealer of Funky Music; MonoNeon; North Sea Jazz Composition Project: Yannick Hiwat; Stormzy; SuperBlue: Kurt Elling & Charlie Hunter with the Huntertones Horns; Terri Lyne Carrington; The Teskey Brothers; Trio Da Kali & North Sea String Quartet; Tristan; True Loves; Van Morrison; Woodcraft; Yaya Bey; Young Jazz Society with Tijn Wybenga & Reinier Baas; Yussef Dayes; Zwangere Guy & Lander Gyselinck.
Sabato 8 luglio: A Salute to Jim Hall: Rosenwinkel, Overwater, van der Grinten, Gress, Baron, Zirina, Postma; Abdullah Ibrahim Trio; Adi Oasis; Anna Webber Simple Trio; Boi Akih; CHARLES TOLLIVER • AFRICA / BRASS ft. Binker Golding,  Antonio Faraò, Chris Dahlgren, Alvin Queen & New Rdam Orchestra; Brandee Younger Trio; Codarts Presents: Arkestra Plays Shorter; DeWolff & Dawn Brothers present Double Cream; Eloise; Esperanza Spalding: Songwrights Apothecary Lab hosts a Co-Musicking Lab; FRA!; Fred Hersch, Drew Gress, Joey Baron; Gard Nilssen's Supersonic Orchestra; Gino-Cochise & Special Guests; Jacob Banks; Jalen Ngonda; Jan Garbarek; Jeff Parker Quartet; Jill Scott; Julius Rodriguez; Kamaal Williams; Kenny Garrett Quintet; Kokoroko; Lakecia Benjamin; Laura Jurd; Lucas Santana 5tet; Marcus Miller; Mark Lettieri Group; Maya Delilah; NAFT; NPO Radio 2 Soul Night met Wouter van der Goes & Frank van 't Hof; Olivia Dean; Orchestra Baobab; Philip Lassiter & the Philthy Phunk Army; Róisín Murphy; Salif Keita; The Staples Jr. Singers; Snarky Puppy; Teus Nobel Liberty Group; Thelonious & Onno Paloma; Tina Edwards; Tom Jones; Trondheim Jazz Orchestra & GURLS; True Loves; Vloeimans Goudsmit Fraanje 'Fugimundi'.
Domenica 9 luglio: Alessandro Fongaro's Pietre; Artemis; Benny Sings; Brad Mehldau Trio; Branford Marsalis Quartet; Coco Maria; Cymande; EZRA Collective; Endea Owens & The Cookout; Fuensanta & Ensamble Grande; Gabriels; Gregory Porter; Hermeto Pascoal; HKU Large Ensemble – Conducted by Corrie van Binsbergen; Izaline Calister 'Tula Lives!'; John McLaughlin's SHAKTI featuring Zakir Hussain and Shankar Mahadevan; Kandace Springs; Latanya Alberto; Laufey; Lizzo; Madison McFerrin; Mansur Brown; Mark Guiliana; Metropole Orkest 'Palm & Plaate' Classic & Popular Compositions from Curaçao; Montis, Goudsmit & Directie; Ndlovu Youth Choir; NOHMI; Oded Tzur; Off-Brand gOdds": Esperanza Spalding & Antonio Brown Dance; Palo Santo; Paradox Jazz Orchestra 'Remembering The Skymasters'; Pat Metheny Side-Eye; Phil Peoples; Ronald Snijders Special Band; Sabakoe; Samara Joy; Samora Pinderhughes; Sampa The Great; Seal; Somi; Son Little; Sona Jobarteh; Stanley Clarke N'4Ever; Teis Semey Quintet; Typhoon; Yuri Honing's Peace Orchestra.